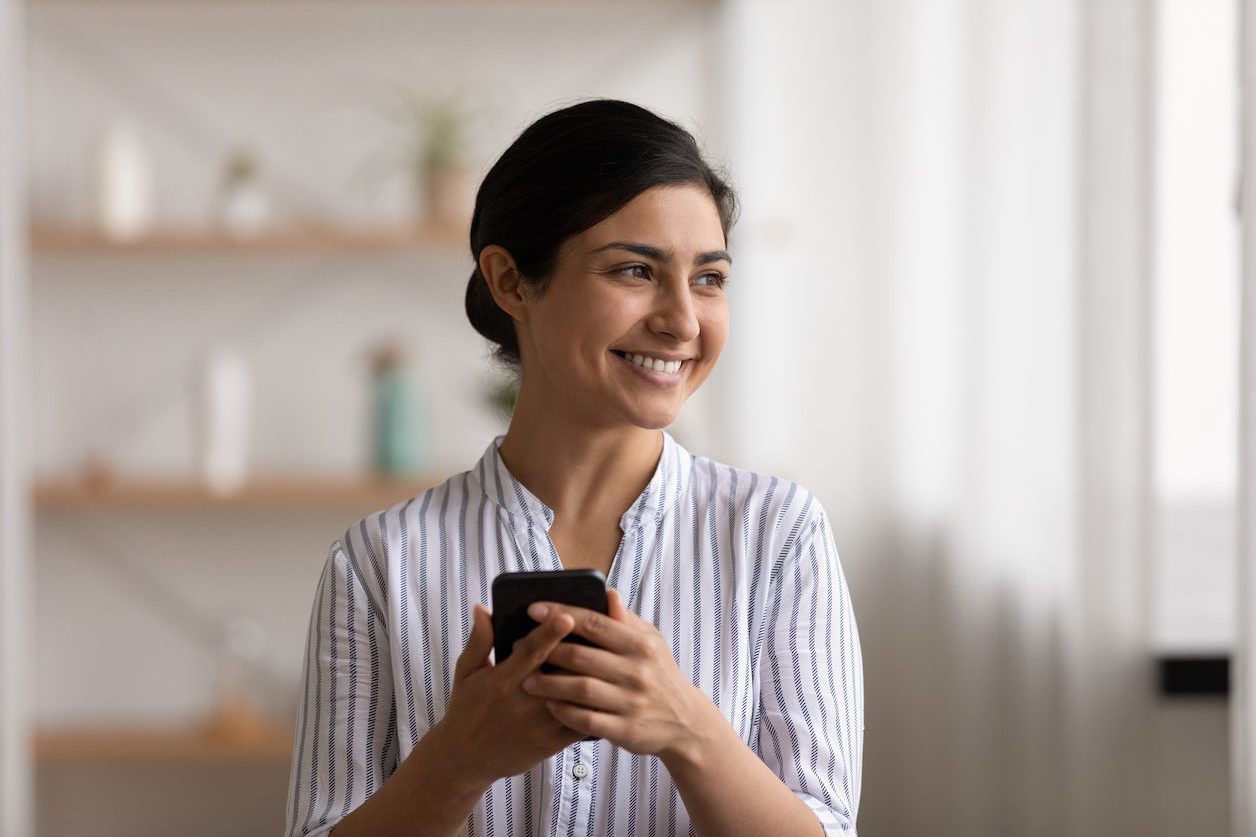 There are many types of depository accounts, but few have the same perks as Achieva Checking Plus. We feel so GOOD about the features that we decided to dedicate an entire blog post to it. Want to enhance the way you manage your money? Sign up for a low monthly fee of $6.95 to get started. 
The more you save, the more you earn
Achieva Checking Plus is a high-yield interest-bearing account³. Rates are variable, usually earning within the top tier of the nation. Imagine doing more with your checking deposits than with a traditional account. Soon you'll see the benefits add up quickly.
Members have access to online and mobile banking
Check your balance in a flash. See up-to-date transaction information and transfer data. Members can utilze the online and mobile services they love, all with secure and safe logins.
Did somebody say Shopping Rewards™️?
As part of Achieva Checking Plus, members get access to Shopping Rewards™️. The program offers cash back that can be used toward future purchases or conveniently sent to you as a check.* After signing up, you'll have the option to explore mobile coupons good at several popular retailers. Planning your purchases has never saved you more!
Get extended warranties and protections 
Debit Advantage™️² coverage applies to items purchased in full with your Achieva Checking Plus account. It includes buyers protection against accidental breakage, fire, or theft over items for 90 days from the date of purchase. Members can also lengthen a U.S. manufacturer original written warranty up to one full year. (Valid on most new retail purchases if the warranty is shorter than five years.)
Take advantage of you Achieva Checking Plus account today!
Read up on all of the perks of an Achieva Checking Plus account. Visit Achievacu.com/Home/Checking for details regarding additional benefits. We'll even take your application conveniently through our site.
Prefer to connect with a member services rep? Call toll free, 800.593.2274.
---
*Registration/activation required. 1. IDProtect service is a personal identity theft protection service available to account owner(s) and their joint account holders. For revocable grantor trusts, the service is available only when a grantor is serving as a trustee and covers the grantor trustee(s). For all other fiduciary accounts, the service covers the beneficiary, who must be the primary member (fiduciary is not covered). Achieva Checking Plus is not available to businesses, clubs, organizations and/or churches and their members, schools and employees/students. 2. Special Program Notes: The descriptions herein are summaries only and do not include all terms, conditions and exclusions of the benefits described. Please refer to the actual Guide to Benefit and/or insurance documents for complete details of coverage and exclusions. Guide to benefit and/or insurance documents are provided at account opening. Coverage is provided through the company named in the Guide to Benefit or on the certificate of insurance. Achieva Credit Union has partnered with Econocheck Corporation to offer certain products and services. These products and services are not offered, performed or insured by Achieva Credit Union. 3. You may earn interest on your Achieva Checking Plus Account when you have 18 posted transactions per checking statement cycle, are using your Achieva debit or credit card, or a combination of both. The Annual Percentage Yield (APY) for the Achieva Checking Plus Account can be earned for balances up to and including $15,000. Certain fees may apply and may reduce earnings. 4. Standard data and text messaging rates may apply. Contact your mobile carrier for details. 5. Credit file monitoring may take several days to begin following activation. 6. Immediate family members of such, defined to include parents, children, spouse, or surviving spouse of the member, or any other relative by blood, marriage, or adoption even though such individuals do not reside in the same household with the member are eligible for membership. 
Insurance products are not insured by NCUA or any Federal Government Agency and are not a deposit of or insured by the Credit Union or any Credit Union affiliate.