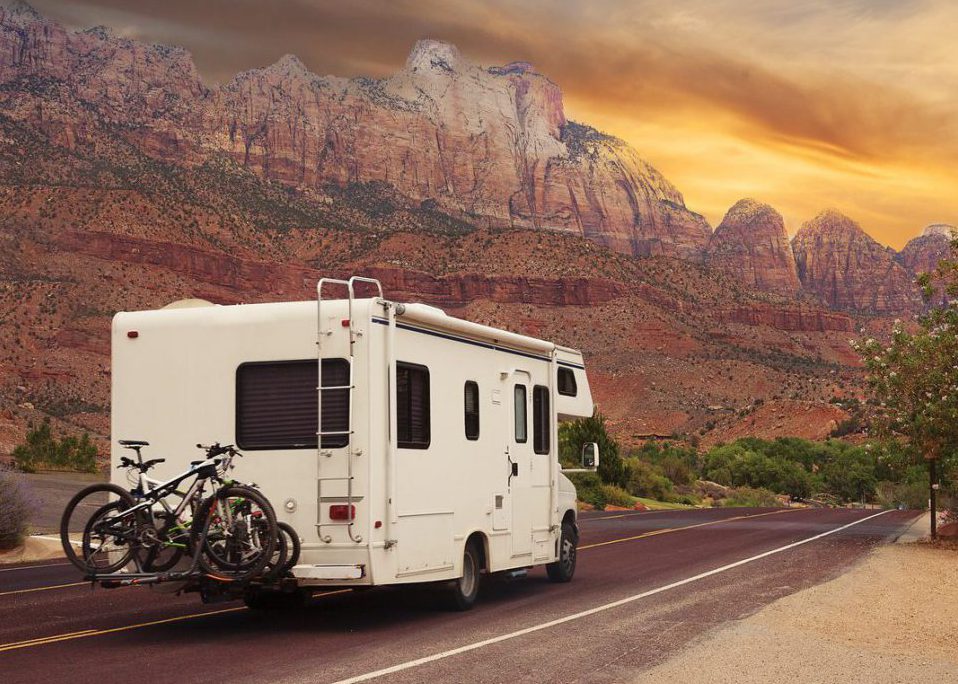 The summer season often includes expectations of exploring the outdoors. Jumping into a fresh spring in the middle of a hot day can feel like a dream come true. Owning a recreational vehicle makes staying at a campsite easier in some ways, yet there are still many things to consider. What are the pros and cons of RV travel? Below is a comprehensive guide to owning a #homeonwheels. 
What kind of RV should I buy?
Step one of RV travel includes knowing which RV you should choose. Most first-timers start by renting a camping trailer to get a feel for the lifestyle. Since recreational vehicles built after 2015 typically cost over $20,000, you will want to do your homework before purchasing. When you are ready to purchase, Achieva Credit Union has you covered! We have specialty loans designed to get you the RV of your dreams. 
List of recreational vehicles by type:
There are four popular types of motorized RVs: Class A motorhomes, Class B motorhomes, Class C motorhomes, and campervans. Additionally, there are towable RVs that attach to a vehicle. All types offer different amounts of storage and liveability conveniences, such as showers and stoves. 
Motorized
Class A Motorhomes – Ranges between 21 and 45 feet and weighs over 20,000 pounds. Sleeps up to 10 adults.

Class B Motorhomes – Smaller RVs that look and drive like vans. Sleeps up to 4 people comfortably.

Class C Motorhomes – Mid-sized motorhomes built on an existing truck or van chassis. Sleeps up to 6.

Campervans – These fall under the Class B category; however, they have smaller square footage. Sleeps 2.
Towable
Fifth-wheel trailers – Ranges from 20 to 40 feet in length. They must be towed by a large pickup truck or conversion vehicle.

Travel trailers – Multiple shapes and sizes. Connects with a standard ball hitch receiver. Can be towed by any vehicle rated to handle their weight capacity. Larger versions sleep up to 8 people.

Sport-utility trailers – Allows for transport of jet skis, motorcycles, or ATVs within the cabin.

Truck campers – Made by attaching a hard-sided camper shell to an ordinary pickup truck. Sleeps 2 to 4 passengers.

Pop up campers – Compact trailers with expandable side sections. Most drivers find this style the easiest to haul. 
Pros of RV travel
One of the benefits of owning an RV is that you know exactly where you will sleep. You own the bed, and it drives along with you, to whichever campsite you decide to stay. 
Another perk of traveling the road on an RV is flexibility. If you decide to stay longer than planned, you won't need to adjust things like plane tickets or car rentals. Likewise, if you need to leave early, you can do so without hassle as well.
Cons of RV travel
No matter how you slice it, owning an RV is a luxury. Because of the upfront costs, it takes a while to recover the expenses saved by this type of travel. You can quicken your return on investment by refinancing your RV to better terms. Furthermore, if you purchase an RV, whether new or old, make sure you use it often. Owning a recreational vehicle, only to let it sit in your driveway, is the biggest con of all.  
Are you ready for an RV lifestyle?
RV travel is an exciting part of outdoor exploration. Being on the road, and seeing mother nature first hand, is what the American road trip is all about. Remember to research insurance options, vehicle restrictions, and repair prices before buying. Are you ready for an RV lifestyle?