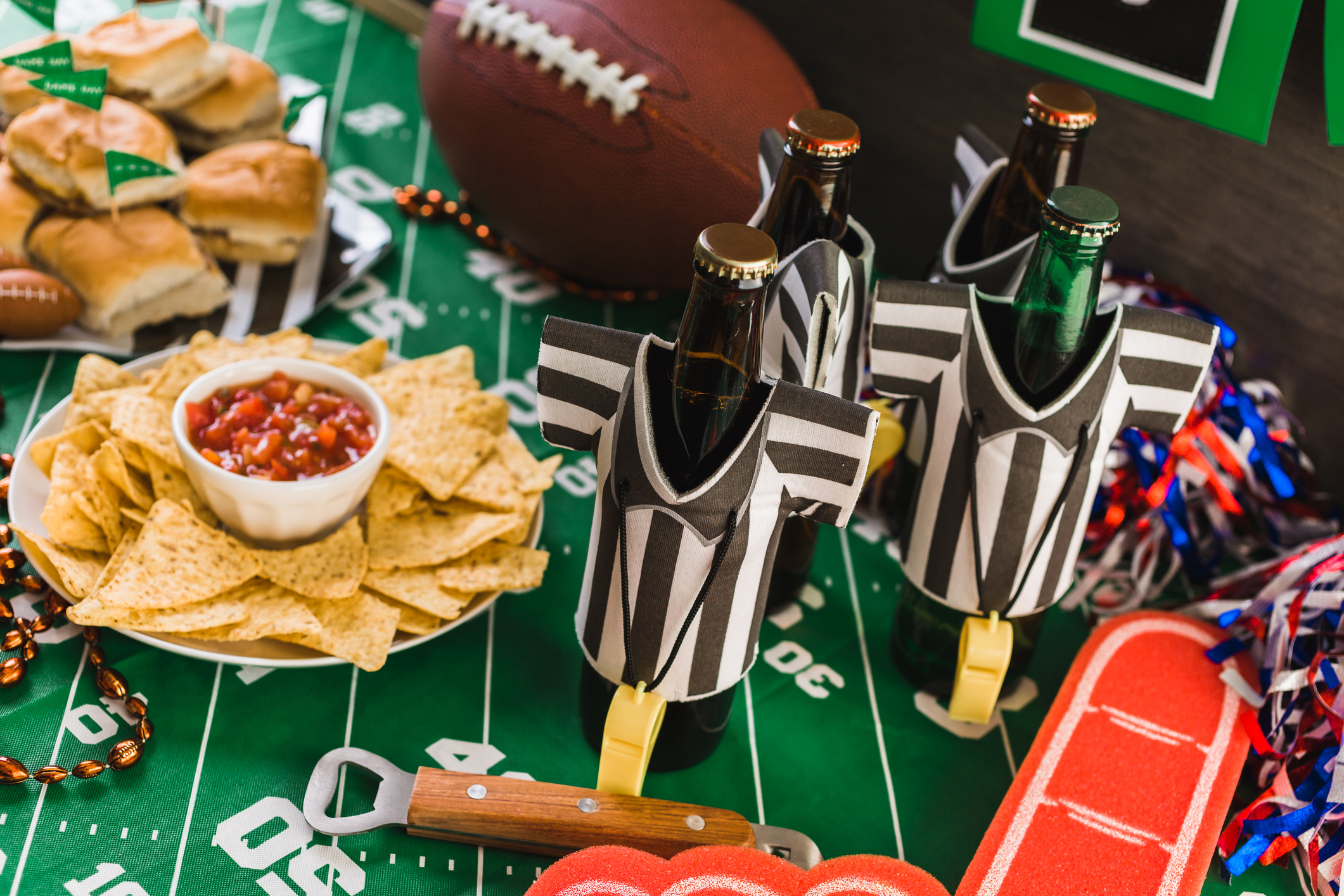 Super Bowl Sunday is fast approaching. And whether you're planning a small gathering for a few friends or a block party, you still want to save a buck or two. It's easy to get carried away with food and drink purchases, and all the extras in between. So, to keep costs from spiraling out of control, here are some tips to help you score a touchdown for your savings while planning a Super Bowl extravaganza. 
Start with a budget
Set strict budgetary restrictions and stick to them. This will ease any stress on your bank account, give you piece of mind while planning. Carefully consider party essentials, and make lists before heading to the shops. Also helpful is an excel spreadsheet for totals in each party supply category to track costs and help curb overspending.
Enlist a cohost
Teamwork is key when planning larger celebrations. Consider asking a friend to co-host your Super Bowl event, and this will cut everything in half; costs, food preparation, and the stress of planning. 
Potluck pros
The more the merrier applies to party fare, too! For a successful superb bowl potluck, ask everyone to bring their own favorite snack or dish. You will not only split the costs evenly, but you'll have a wide variety of party food for everyone to enjoy. 
BYOB
Providing beer, wine, and cocktail mixers can quickly add up. To save on alcohol expense, and to ensure that everyone has something they like to drink, ask everyone to bring their own. 
Throw the flag on food costs
Fancy party platters full of veggies, meats, and dips look great, but can cost a ton. If you want the extravagance of a platter on a penny pincher's budget, consider making your own. Buy carrots, celery, tomatoes, cauliflower, cut them to your desired shapes, and serve with store-bought dressing. For hot dishes, head to your local wholesale club to buy meat in bulk for chili in the crock pot. Bulk bags of frozen chicken wings are another cost-saving option, and when tossed in buffalo sauce and served with store bough blue cheese dressing, they're a winner with your wallet. another cheap and cheerful option for snacks, chips, and drinks, is going store brand. Once you open the bag and pour them into a bowl, no one will know they're generic. 
Pizza deals
Believe it or not, it's sometimes cheaper to buy a few large pizzas instead of having a full snack spread. Close to Super Bowl time, look out for coupons from local pizza places in the mail. Take advantage of Super Bowl specials online, too. Many pizza chains now have apps as well, for ease of ordering and quick delivery. 
And your guests can chip in on pizza cost, if they feel inclined. Five bucks from a few friends here and there can make a difference.
Trim down on bells and whistles
Decorations are always optional. Let's face it, most people aren't going to notice the colors of the streamers or if you have that fancy football-shaped chip bowl. 
But if you do feel like getting into the big game spirit, hit your local dollar store for sports-themed party decorations. They will have everything, from coordinating paper plates, to napkins, cutlery, centerpieces, and even balloons. 
If you're looking for more money saving tips, or need a credit card to pay for those pizzas and wings, visit achievacu.com.