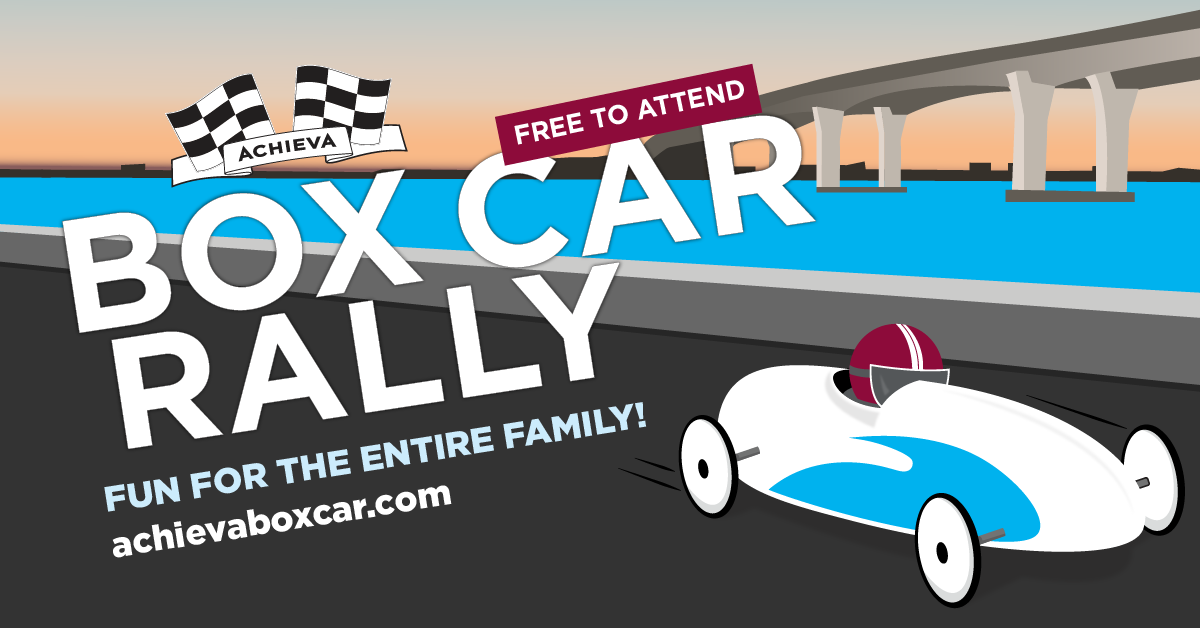 Support Local Schools
8th Annual Achieva Box Car Rally
Saturday, October 14th
9 am – 4 pm
Get ready – the annual Achieva Box Car Rally rolls through the streets of Clearwater in just two weeks!
Enthusiastic crowds of spectators, lining Cleveland Street from Osceola Avenue to the waterfront, will cheer as their favorite racers hurtle down the hill toward victory. With two racing divisions and six classes in each division, there will be plenty of exciting race action throughout the day! Last year 262 racers competed in 340 individual races! From Pee Wees to Corporate sponsored drivers, and wacky homemade cars to All-American Soap Box Derby competitors, you are sure to find a favorite or two!
In addition to the racing, the Box Car Rally offers a day of family fun including food trucks, vendor exhibits, and a Kids Fun Zone featuring balloon artists, face painting, inflatables, and much more! Parking in the lower Harborview Center lot and the Garden Avenue parking garage is FREE. The Box Car Rally is also free, but some of the activities and food require purchase.
Don't forget – all proceeds from the Achieva Box Car Rally will benefit the Pinellas County Schools. The Achieva Foundation supports our students by making classroom grants that enable teachers to enhance the learning experience in a special way. In fact, this event has raised $150,000 for Pinellas County schools since 2009. That adds up to a lot of classroom magic!
We invite you to join us for an exciting day of fun and community building as we raise money for our local schools. You'll see some familiar Achieva team members helping out – last year we had 272 volunteers! Because at Achieva, we are banking for GOOD!
DETAILS:
8th Annual Achieva Box Car Rally
Saturday, October 14, 2017
9 – 4 pm
Downtown Clearwater – Cleveland Street District
FREE PARKING – lower Harborview Center lot or Garden Avenue parking garage
For more information, see our website: http://www.achievaboxcar.com/