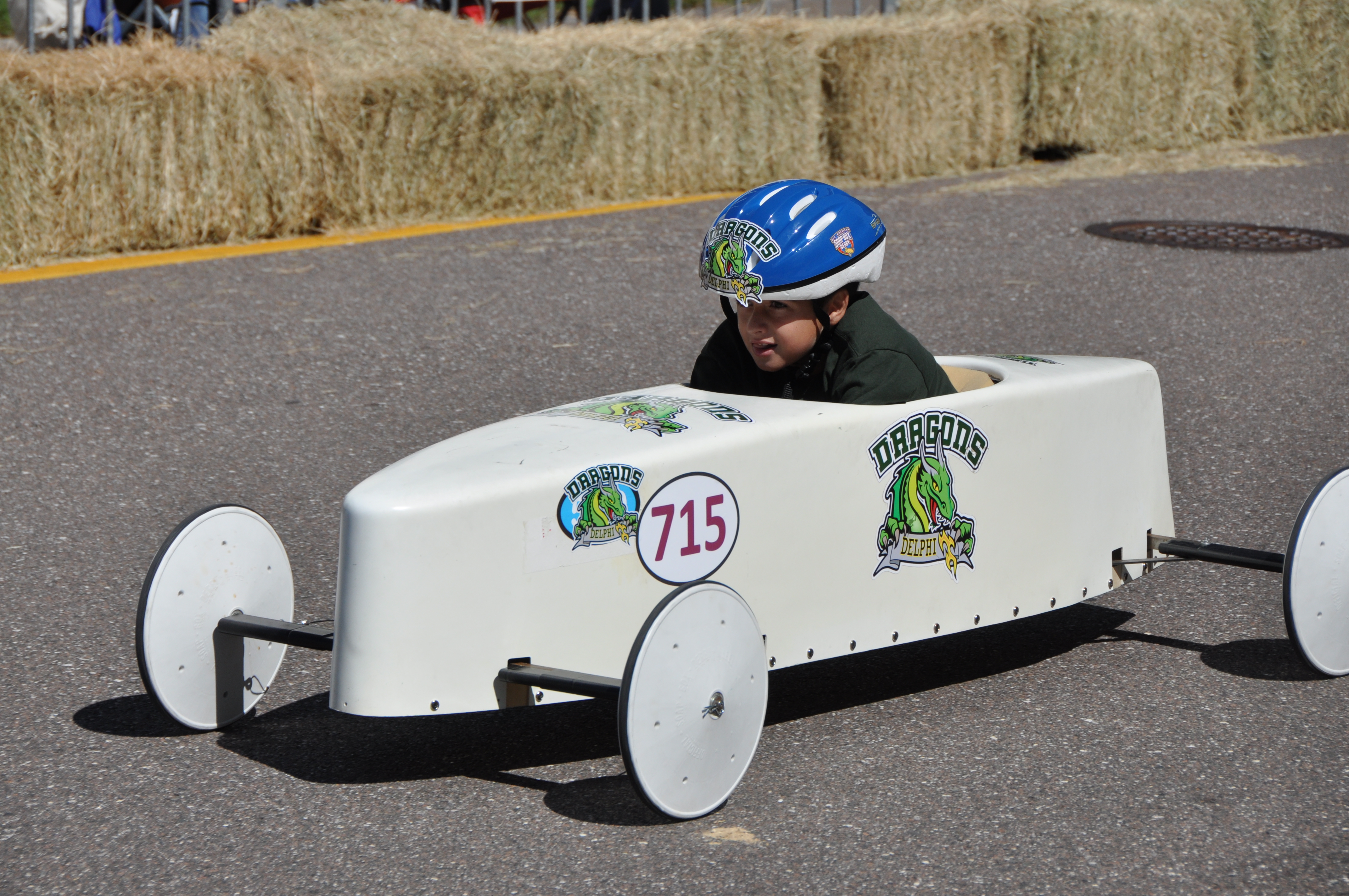 Three thousand eager spectators ascended the hill in Downtown Clearwater's Cleveland Street District, watching the competitors jockey for position with their vehicles. Some cars were sleek and shiny, looking as though they were moving fast even when standing still. Others…not so much. Teams in their matching jerseys warmed up, jogging and jumping, jiving and high-fiving. Parents scrambled around, getting their Pee Wee leaguers ready for competition; buckling helmets, double-checking bolts. And then it was time.
The checkered flag dropped on the 7th Annual Achieva Box Car Rally on Saturday, October 22nd. With two divisions and six race classes, 65 entrants vied for the chance to go home with one of the shiny winged trophies. While Clearwater Fire & Rescue didn't nab a trophy for speed, their entry in the Homemade Division, Faster than Fire, took home the award for Best Team Theme and Best in Show for the Homemade division. In the AASBD (All American Soap Box Derby) division, the Dunedin Kiwanis were on fire themselves, placing in the Top 3 of every race in which they participated. The High School class produced cars with the most fanciful names: Wizbert, Real Cheezy, HMS Toro-nado, and Opportunity, just to name a few. For a complete list of finishers and their stats, follow this link: https://www.achievacu.com/pdfs/BCR16FULLRESULTS.pdf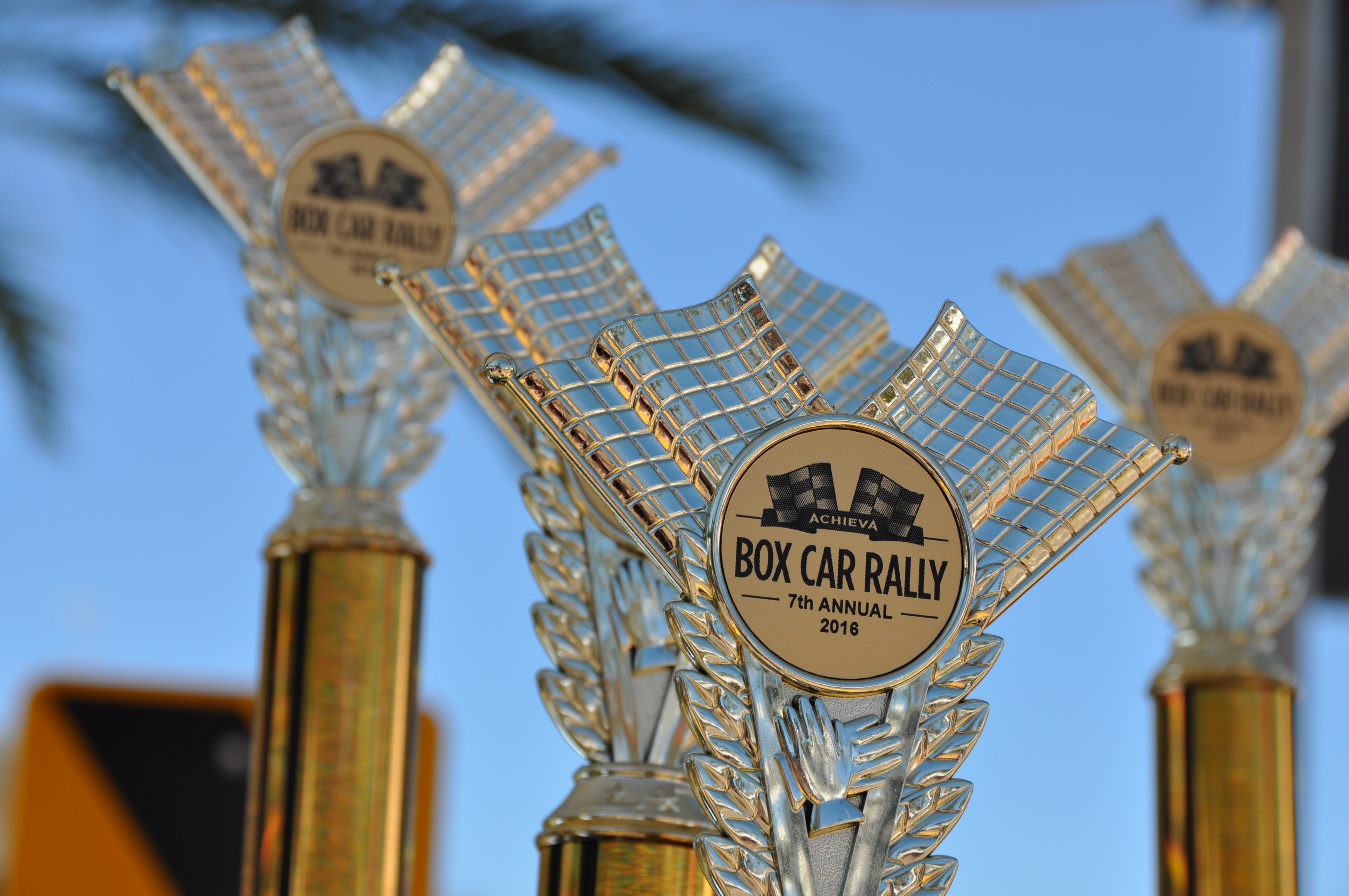 For the more than 200 Achieva volunteers, months of planning and preparation came together as the first racers mounted the starting ramp. Long before dawn they were hard at work, hauling hay bales, setting up track barricades, and unboxing trophies. They were preparing race schedules, assembling canopies, and setting up scales to ensure a fair and fun race for all. Easily identifiable in their GOOD Volunteer shirts and checkered flag socks, Achieva's employees, family and friends gave 100% to make sure that everyone – participants and spectators – had a great day.
A huge round of applause goes out to all the employees, family, friends – and even a few members – who helped facilitate the Box Car Rally. We truly have the best crew!" said Chelsey Wilson, Director of Communication and Events for Achieva. "We are very dedicated to our community. All the proceeds from this event go directly to the Achieva Foundation, which is our charitable corporation. The Foundation distributes funds to Pinellas County schools in the form of grants and scholarships. This event alone secured $40,000 for the Foundation, which has already raised more than $225,000 over the past seven years to help our local schools. We are honored to put on the Box Car Rally for the enjoyment of the whole community, and then to take the proceeds and return them to the community again, in the form of educational assistance. It's really a win-win.
Achieva Credit Union has a deep commitment to serving the community. One of the institution's core principals is to "do the right thing", which means volunteering and sponsoring community-wide events, such as the Annual Box Car Rally. Achieva is also proactively involved in helping members meet their financial goals by offering seminars and events at each of the local branches. Please check the EVENTS page on our website to see what is coming up in your area.
We have posted all photos at http://photos.achievacu.com/boxcar2016! Check them out and relive the fun from the day. You can also purchase your favorite prints and even create custom photo gifts. Perfect gift idea for the holidays for your favorite box car racer!