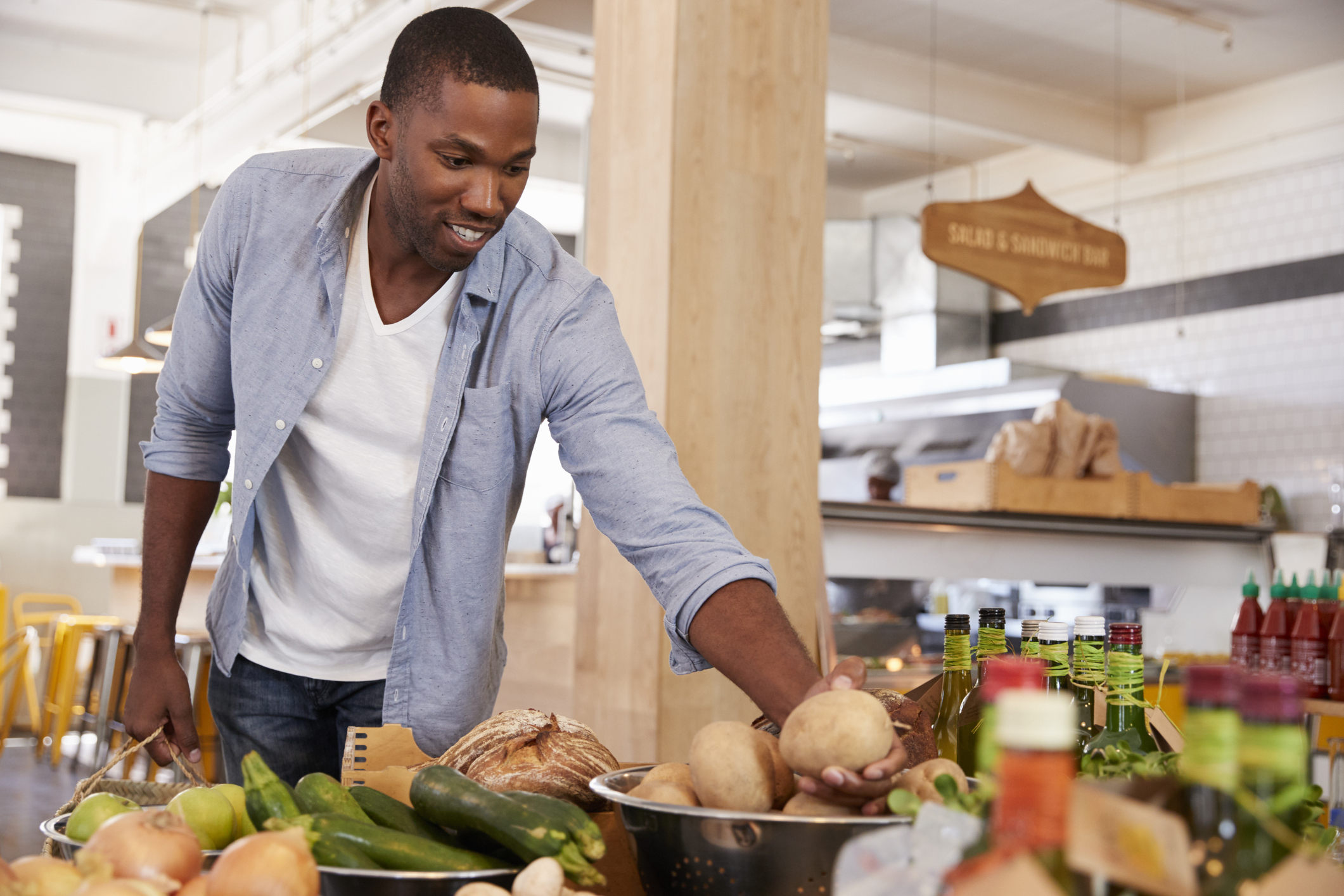 Many of us think we'd like to improve our health and well-being by going organic. We'd like to get away from food that is loaded with preservatives, stabilizers, added sugar and sodium, and be more natural with our diets. But it seems that stepping back from the world of processed food comes with a steep price tag. Items labeled organic frequently cost up to twice as much as their non-organic competitors, which prevents budget-conscious folks from making the purchase. However, there are many ways to incorporate organic items into your routine without breaking the bank.
What Exactly IS Organic?
As defined by the US Department of Agriculture (USDA) organic food is produced without the use of conventional pesticides. Fertilizers may not contain synthetic ingredients or sewage sludge. The products may not undergo bioengineering or ionizing radiation. In the case of meat, eggs, poultry and dairy products, the animals that produce them may not be given antibiotics or growth hormones.
If you see the "USDA Organic" or "Certified Organic" seal on the label, you can be sure that the product has been produced according to strict quality standards that allow only a 5% variance for processing with additives from an approved list. You may also see the words "100% Organic" on a label, meaning that the item is produced without any additives. Another popular term is "made with organic", meaning that while the final product may not be classified as organic it is comprised of largely organic ingredients.
Benefits of Organic
It is important to note that from a nutritional standpoint, organic foods have no substantial vitamin or mineral advantage over conventionally produced foods. Rather, the benefits of organic food come from what they lack – pesticides, antibiotics, growth hormones, stabilizers, fillers, etc. One of the goals of organic production is an environmentally friendly atmosphere which utilizes natural resources and which generates the least amount of negative impact on people and the planet. Organic practices take into account the full spectrum of the food production process – for example, limiting pesticides improves the quality of the food and the quality of life for those who grow it and those who eat it. So for many organic enthusiasts, the allure of living organic is a matter of respect – for themselves, for the folks who produce the food, and for Mother Earth.
Location, Location, Location
Grocery stores as we know them are havens of convenience. Vying for your dollars, they attempt to have everything you need under one roof. And for the most part, they are pretty successful. You no longer need to go to the butcher, the drug store, or the bakery – they're already inside the grocery store. You can buy trash bags, plantains, butter, even patio furniture – it's all there. But shelf space in the major supermarkets is very expensive, and it's difficult to get a piece of that real estate unless it's a near certainty that an item will yield big dollars. Organic products tend to be produced by smaller companies that often can't afford the fees associated with placing their products in the major chains. So you may need to venture farther afield to find them.
Organic Bargains
Unlike just a few years ago, there are now a wide range of choices for sourcing organic products. For fresh foods, such as vegetables, fruit and dairy products, the local farmers market is still the go-to resource. There you can compare the quality, talk to the farmer, and even negotiate prices. If you can't get to a farmers market, the next best choices are stores such as Whole Foods or Sprouts. You will pay a bit more, but you are assured of excellent quality.
Amazon Fresh is a popular resource that lists more than 2,000 organic products in its lineup. With a Prime membership free two-day shipping is included. Amazon offers delivery of dry, fresh and frozen products made by well-known companies (Earth's Best, Newman's Own, Nature's Way) as well as a host of smaller, specialty products.
Trader Joe's offers a plethora of organic options. Known for their high quality private label products, Trader Joe's has everything from soup to nuts at reasonable prices. Can't get to TJ's? Amazon now sells Trader Joe's products online!
Thrive Market, another online retailer, advertises prices 25-50% below retail every day. This unique site also allows you to shop by "value" – choose from GMO-free, vegan, high protein, no high fructose corn syrup, compostable, fair trade, family-owned business – altogether there are almost 80 value selections. Thrive Market also offers free shipping for orders over $49.
Brandless is the newest entry in the online organic market. Their hook is that every item on their site sells for $3. Not all items are organic, but the majority features some type of good-for-you attribute such as non-GMO, vegan, gluten-free, no sugar added, etc. All offerings are private label, and new items are constantly being added. Shipping ranges from $3-$9 depending upon the size of the order.
And let's not forget our local supermarket. While organics are not usually the cheapest items on the shelves, large-scale supers have a lot of buying power, and generally feature a few organic items in their weekly sales. A couple times each year markets will run an "Organic Event" when they offer organic items at a substantial discount. Stocking up during these sales can net a significant savings.
The organic lifestyle is now attainable by almost everyone, unlike a few years ago when it seemed to be reserved for the wealthy. There is still some debate about the value of organic products, but with the understanding that organic is a term that applies to the life cycle of the food, and not simply its nutritional value, the choice becomes more clear-cut. Omitting pesticides and additives is a compelling reason to choose organic, as is reducing exposure to these chemicals for both the farmer and the environment. In essence, organic is a matter of respect for the process of the creation and consumption of food in the most natural way possible. And we could all use a little more respect.
Resources
https://lifehacker.com/5941881/what-does-organic-really-mean-and-should-i-buy-it
http://www.cheaprecipeblog.com/2017/09/brandless-review-the-site-that-sells-everything-for-3/