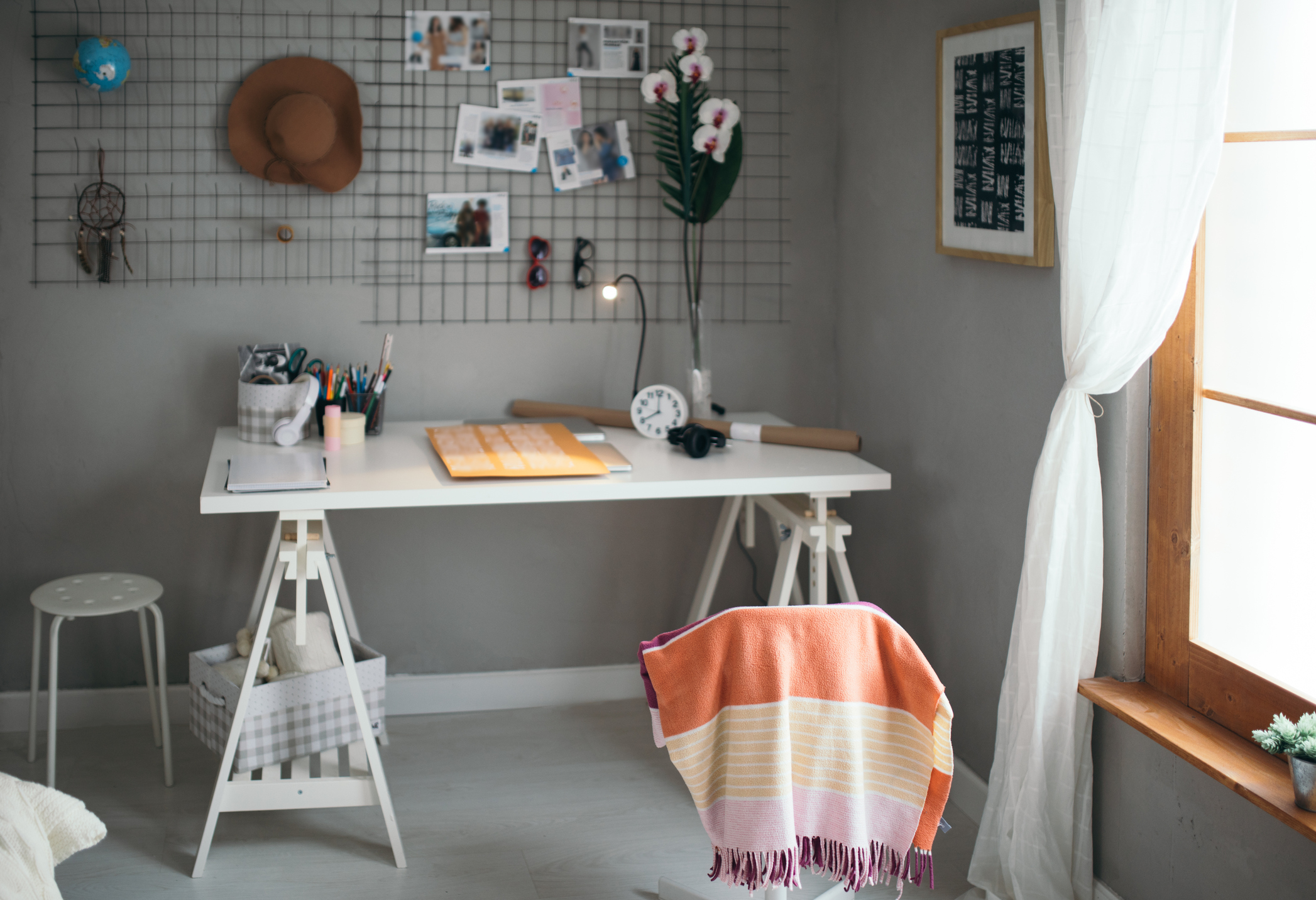 Currently, many college students are preparing to move away from home and settle into a new space. The transition to a dorm environment can be intimidating. And, if you're reading this article, you're most likely interested in how to make the best of it. Don't worry, we've got you covered. We'll show you 7 dorm room goals that you can achieve during your very first semester.
1. Color theme envy
To begin, the first step to accomplishing your dorm room goals is to choose the colors. Most college dorms start with plain white walls so use this to your advantage. Pick one or two main theme colors and go from there. You can even search Instagram for combination ideas.
2. Accessories that pop
After you pick your colors, the next step is to select accessories that match. Most students like a collage of frames and wall decor. Additionally, you can add a few inspirational pieces on your shelves. Some accessory ideas include:
– Custom stationary
– Accent lights
– College store swag
– Posters
3. An everyday positive mantra
Your dorm room goals are not complete without a motivational mantra. Select your favorite word or phrase and hang it on your wall. Every day when you wake up, you can view it and feel pumped to do your best.
4. Pillows galore
Let's face it. College is tough and the schedules are hectic. When it's time to rest, you need to be able to get comfortable right away. Having a large collection of pillows and blankets is one of the door room goals everybody wants. Whether you prefer fluffy pillows or more support, possessing the right assortment is key.
5. Food storage
If your college dorm allows, a mini fridge is a great investment. Not only can you store all of the water and energy drinks you need, you can also keep things like fruits and yogurts. It's so much easier than walking to the cafeteria.
6. Functional desk space
Make your desk productive by keeping it neat and tidy. Allow room for books, papers, and your computer. Most students opt for a desk that provides internal storage, as well as wide legs for stability. Check out a few style variations before you purchase.  Then you'll know which is the right desk for you.
7. Positive home vibes
Just because you moved away to college doesn't mean your space has to be cold and boring. Bring some influence from your home into the mix. The difference between a plain and an upgraded dorm room is the number of positive home vibes it has. Hence, it's ideal to make your space an area of hospitality and well-being.
Back to School Funds
If you need a little help with your back to school funds, we may be able to assist. Get money for school supplies and more, with a student loan from Achieva in partnership with Sallie Mae®.
Whether you're an undergraduate student or graduate student, these loans are designed to meet your needs:
– Competitive variable and fixed interest rates
– No origination fee or prepayment penalty1
– Multiple repayment options
View more details at: achievacu.com/Home/SallieMae.
Dorm room goals just got easier
Now that you know how to achieve these 7 dorm room goals, it's time to get started. Maximize your living space while away at college. Look put together, stylish, and organized by using the simple tips above.
Need more college prep tips? Continue reading the Achieva Life Blog for additional finance, lifestyle, and productivity content. 
---
Borrow responsibly
We encourage students and families to start with savings, grants, scholarships, and federal student loans to pay for college. Students and families should evaluate all anticipated monthly loan payments, and how much the student expects to earn in the future, before considering a private student loan.
These loans are made by Sallie Mae Bank or a lender partner. Achieva Credit Union is not the creditor for these loans and is compensated by Sallie Mae for the referral of loan customers.
Smart Option Student Loan and graduate loan products: These loans are for students at participating degree-granting schools. Smart Option Student Loan information is for undergraduates only. Graduate Certificate/Continuing Education coursework is not eligible for MBA, Medical, Dental, and Law School Loans. Students who are not U.S. citizens or U.S. permanent residents must reside in the U.S., attend a participating school in the U.S., apply with a creditworthy cosigner (who must be a U.S. citizen or U.S. permanent resident) and provide an unexpired government-issued photo ID to verify their identity. Applications are subject to a requested minimum loan amount of $1,000. Current credit and other eligibility criteria apply.
1 Although we do not charge a penalty or fee if you prepay your loan, any prepayment will be applied as outlined in your promissory note—first to Unpaid Fees and costs, then to Unpaid Interest, and then to Current Principal.
SALLIE MAE RESERVES THE RIGHT TO MODIFY OR DISCONTINUE PRODUCTS, SERVICES, AND BENEFITS AT ANY TIME WITHOUT NOTICE.
© 2021 Sallie Mae Bank. All rights reserved. Sallie Mae, the Sallie Mae logo, and other Sallie Mae names and logos are service marks or registered service marks of Sallie Mae Bank. All other names and logos used are the trademarks or service marks of their respective owners. SLM Corporation and its subsidiaries, including Sallie Mae Bank, are not sponsored by or agencies of the United States of America.