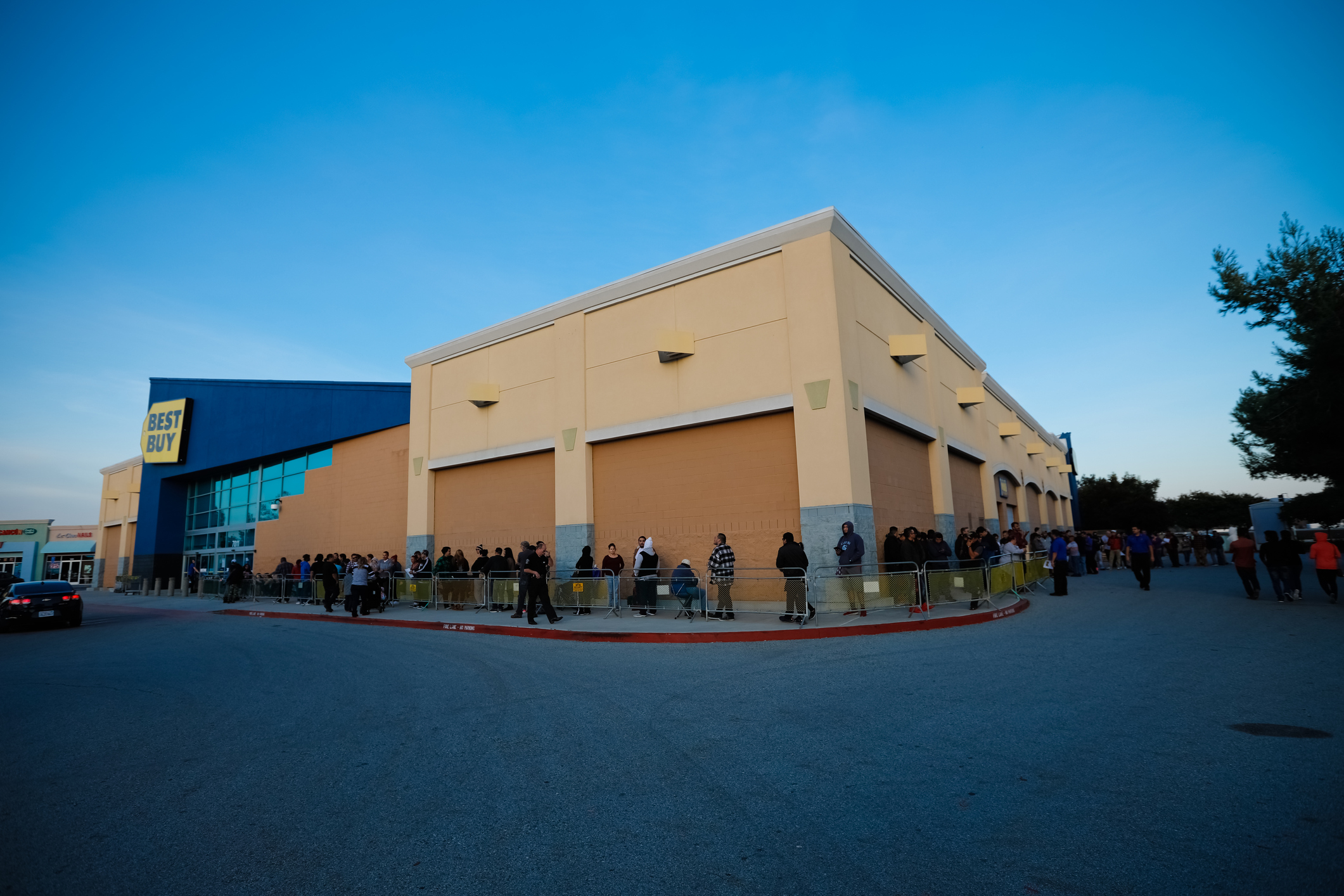 The shopping wars are about to begin, and Black Friday 2017 may prove to be epic in scale. According to a recent survey conducted by RetailMeNot, consumer spending will average an increase of 47% over the same weekend in 2016. Consumers are expected to spend an average of $743 between Black Friday and Cyber Monday. That's an increase of $238 over last year's spending. It is predicted that 7 out of 10 holiday shoppers will make a purchase during Thanksgiving weekend.
As the traditional start of the holiday shopping season, Black Friday, so named because sales on that one day can push retailers "into the black" for the year, caters to conventional in-store shopping. Willingness to head out to the mall before dawn can net huge savings, especially on fashion, housewares, and electronics. Beware, however, that quantities are frequently limited to just a few items per store, as is the case with computers and televisions. On the flip side, if you actually snag the item of your dreams, it belongs to you the moment you check out. There are no backorders or cancellations when the item is physically in your possession.
Cyber Monday has become an extension of Black Friday, and it accommodates folks who want to avoid crowds and chaos. While there are still many great in-store sales, Cyber Monday skews toward online shopping. In fact, time savings is probably the biggest bonus (along with free shipping.)
Amazing bargains are the hallmark of the four day free-for-all, but how do you find the best deals? Start by putting together a plan that allows you to maximize your time and energy. While you may enjoy the in-store shopping experience, consider shopping online for specific items, such as technology, that are likely to yield superior deals and better availability than the offerings in a brick and mortar establishment. Free shipping and/or bonus items provide additional incentives to shop online.
Begin by categorizing your purchases: electronics, housewares, fashion, toys, sports/athletic equipment, etc. Note which of your favorite stores is promoting the items you want. Perhaps Target has the stand mixer you covet, while Best Buy is advertising the perfect TV for your husband's man-cave. Scan the ads for fine print stating the quantity of each per store, and note whether or not rain checks will be offered if the item sells out. If there are limited quantities, check the retailer's website. You may be able to secure an online purchase even before Black Friday – this year many retailers are offering special savings during the weeks prior to and after the actual holiday.
If researching sales isn't your idea of a good time, there are plenty of blogs and websites that are happy to do the work for you. Here are just a few:
Forbes.com – Contributor Gordon Kelly offers comparisons of Walmart vs Amazon, Best Buy vs Target, and Kohl's vs Costco. Within the articles, Kelly also offers links to deals at Apple, Macy's, Microsoft & Samsung. https://www.forbes.com/sites/gordonkelly/2017/11/13/walmart-vs-amazon-best-black-friday-2017-deals-sales/#102bebba1684
Wired.com – Best Black Friday Deals you can order online. Includes specific product comparisons and links to sales sites. https://www.wired.com/story/best-black-friday-deals/
BestBlackFriday.com – A round-up of Black Friday deals, links to major retailer ads/websites, list of stores that are open on Thanksgiving  + hours, and listings by category. https://bestblackfriday.com/
BGR.com – a list of EARLY Black Friday sales you can take advantage of right now. http://bgr.com/2017/11/15/black-friday-2017-walmart-best-buy-amazon-early-sales/
Aggregator sites such as Amazon and eBay are also excellent resources for bargains.
Best Practices for Black Friday Shopping
Hours: many retailers are opening on Thanksgiving night to get a jump on the competition. Check ads for shopping hours.
Early Bird Sales: special deals may only be offered during early morning or late night hours.
Online Deal Hours: bargains may be offered beginning at 4 a.m. on Friday. Bookmark the website so you can have instant access when the item you want is offered.
Wheels: if you are mall shopping, bring a lightweight collapsible cart on wheels so you can move from store to store with ease. If you must leave purchases in your car, lock them out of sight in the trunk or cover with a blanket on the floor of the backseat.
Online Payment:  Don't use your debit card to pay for purchases. Use a regular bank credit card for online shopping. This adds an extra layer of fraud protection for you, as the purchase is made with the bank's money. If something goes wrong, you bank balance remains unaffected.
https://www.forbes.com/sites/deborahweinswig/2017/10/27/2017-black-friday-and-cyber-monday-predictions/#493936175f14