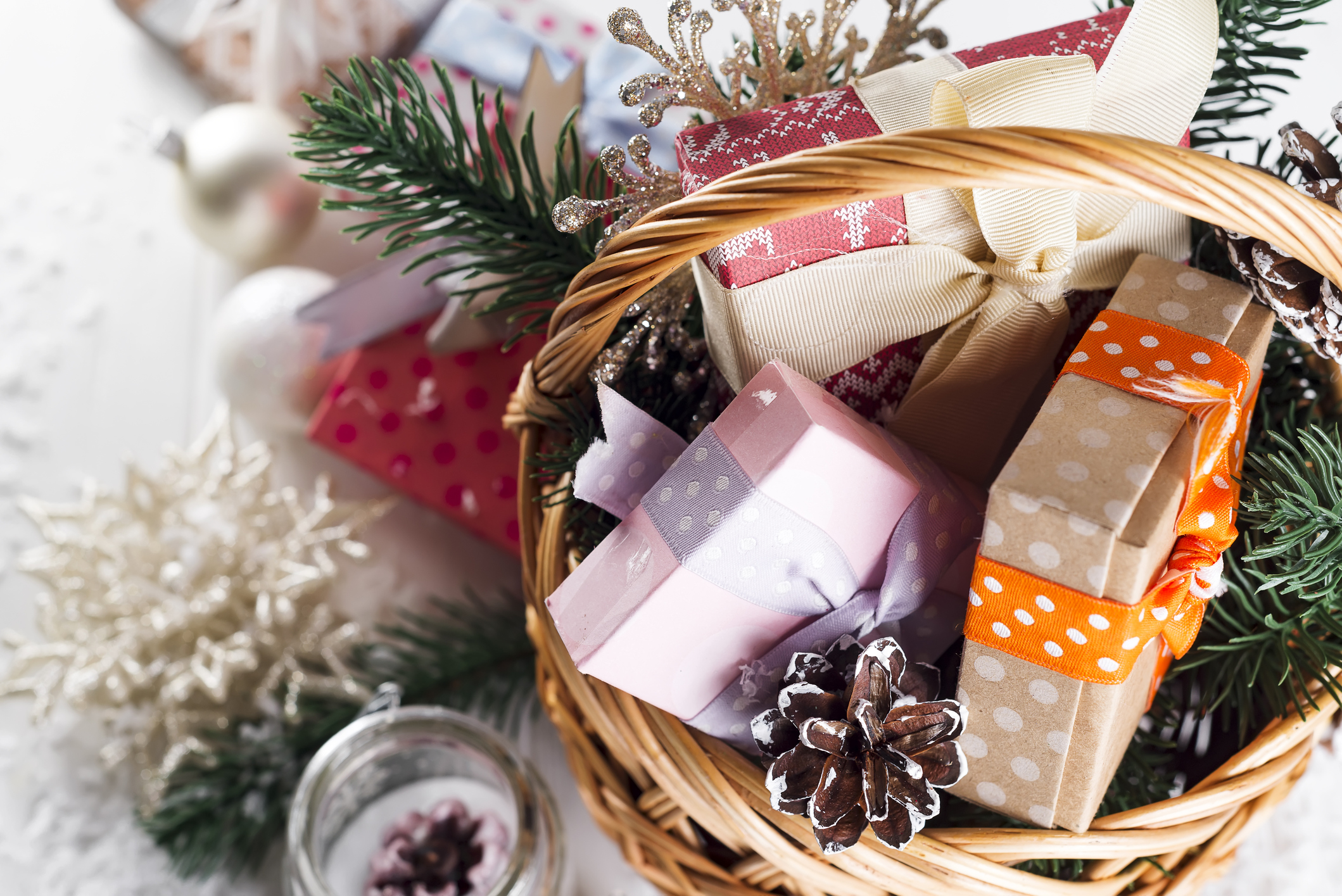 'Tis the season to be merry and bright. We're stuffing the stockings and lining the tree with presents. With only a week left until Christmas, many people who haven't knocked out their shopping list find themselves in a time crunch. If your busy life has put your holiday shopping plans on hold, don't worry. Here are a few creative ideas for themed gift baskets that shouldn't take too much time or money.
We've got tons of ideas for themed gift baskets that suit a wide range of budgets. If you want to send your loved ones something DIY and special, you're in the right place.
Start with the 4 basic needs
There are 4 basic needs that every person attends to. Why not center a basket around one of these needs? To begin, chose the theme of either food, beverage, shelter, or clothing. Then pick 3-8 items to place in each basket. Securely place items together and cover with shrink-wrap. Decorate with bows or ribbon and the rest is set.
Food themed gift baskets
For the food themed gift basket, the target should be on quality and originality. Specialties that your favorite foodie wouldn't buy everyday should be the focus.
Here's a list of ideas:
Dry aged salami
Specialty mustards
Elaborately decorated cookies
Raw, unprocessed honey
Dried spices
Custom hot sauces
Gourmet fudges and chocolates
Simply pick some, or all, of these items to create food themed gift baskets for family or friends. Even better, the majority of these items are available at farmers markets at reasonable prices. Afterwards, spice things up by adding plates, cups, dining ware, or napkins. The details come together easily when you imaging the recipient enjoying the items they received.
Beverage themed gift baskets
The beverage themed gift basket is the most popular type to give. You start with the beverage, add mix-in items, and also glasses. These baskets are fun and can last all year long.
Here are a few combinations:
Bottled seltzer water, fresh lemons and limes, and two 12oz tumbler glasses
Variety wine samples, corkscrew, and decanter
Ground coffee, coffee mug, and flavored syrups
Herbal teas, stirring spoon, and organic honeys
Shelter or home themed gift baskets
This type of basket focuses on practicality as well as comfort.
Ideas include:
Decorative photography or wall art
Mini handyman tool set
Variety cleaning supplies
Candles
Pillows
Personalized coasters
Picture frames
Your home lover will be thrilled with every item on this list; however, you can mix and match where appropriate. For example, to make a home themed gift basket perfect for their living room, fill it with fragrant candles, a throw pillow, and some personalized coaters. The possibilities are endless and your homebody will enjoy.
Clothing themed gift baskets
Of all of the gift baskets, the clothing themed is perhaps the most fun. You have a chance to give original and one of a kind gifts that your recipient will wear for months to come. Unless you know their exact clothing size, the trick is to get items that fit all.
For example:
100% cotton socks
Sports team hats
Plush bath robe
Ties
Luxury gloves
Scarves or handkerchiefs
Creating DIY gift baskets for Christmas is fun as well as cost effective. There are several themes to choose from and we hope this post has inspired you with the basics. From all of us at Achieva Credit Union, we wish you a very GOOD holiday season.