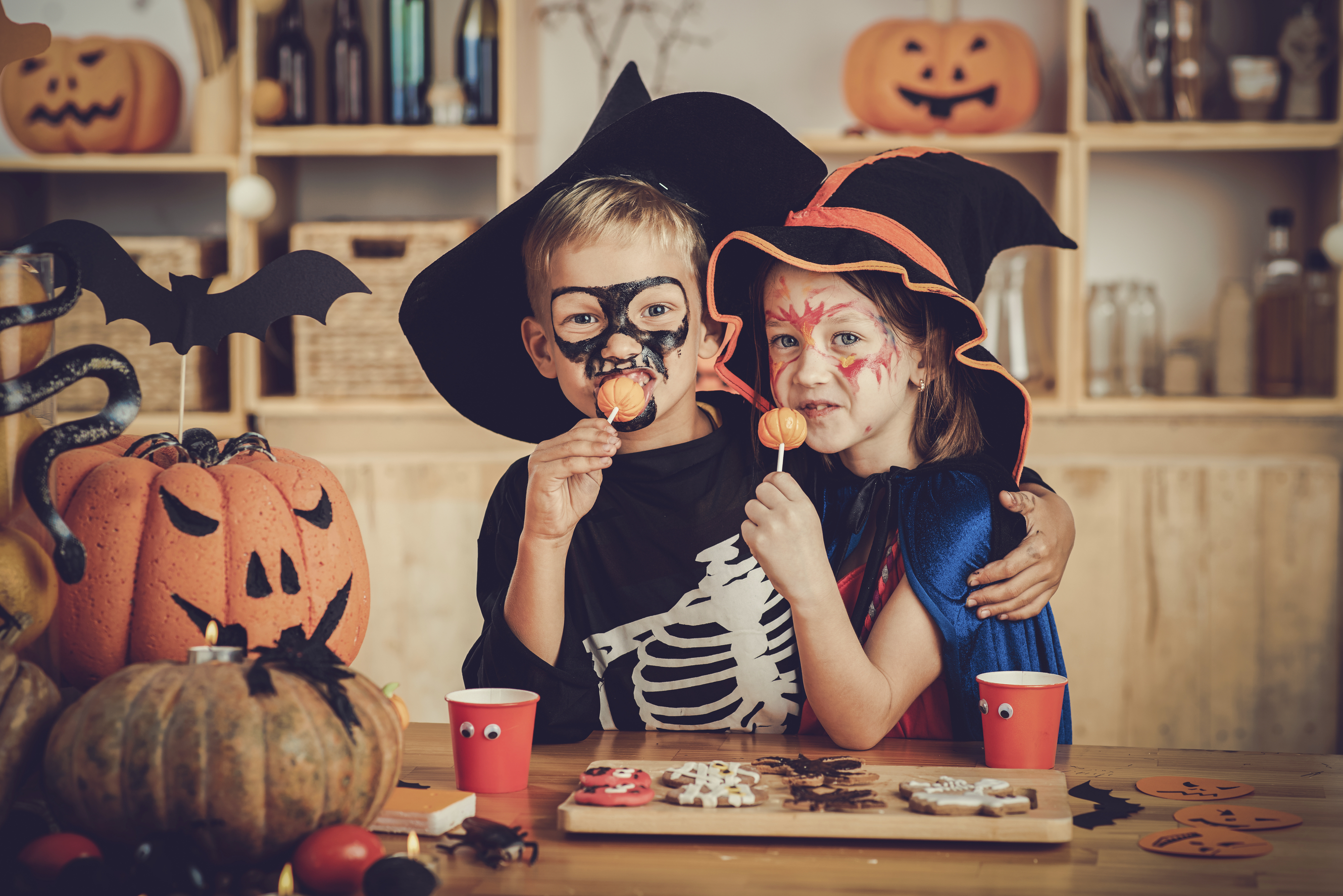 Great news for those of you expected to show up at a Halloween party with a dish to share – or those whose kids are begging for a spooky meal before trick or treating: for this holiday, loads of creativity – not loads of cash – will reap raves from the famished.
Let's start with a VEGGIE TRAY. The centerpiece here is a "barfing" jack o lantern. Hollow out a small Sugar Pie pumpkin and carve a pained-looking expression, making sure to create a big, round O for the mouth. Place the pumpkin at one end of the serving platter so there's space for a long trail of dip. We used guacamole, but you can use spicy queso dip (looks especially gross if there are chunks of tomato or ground beef in the dip) or French onion – just make sure the dip is fairly thick so it maintains its shape on the platter. (Ranch dressing is not a good idea here.) Start the trail of dip inside the jack o lantern, making it flow out the mouth. It's much cuter than it sounds!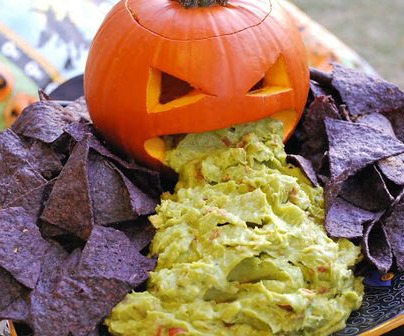 Line up your veggies on the platter, and create small tags with clever names. We used the plain white inside of a frozen pizza box, cut into ghost shapes, so the tags would remain rigid. Once the tags were created, we simply taped toothpicks to the back side and stuck them in the appropriate section.
Black olives = Spider Eggs
Petite carrots = Baby Fingers
Broccoli florets = Zombie Brains
Sliced peppers = Skeleton Ribs
Cucumber = Swamp Chips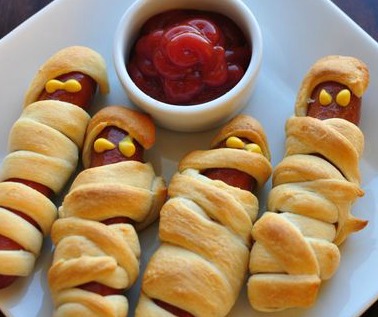 If you need an entrée, look no further than MUMMY DOGS. These are quick, easy and fun to create. All you need are a package of hot dogs, a tube of crescent rolls, and a little bit of mustard. Start by unrolling the crescent dough and cutting it into thin strips. Then wrap the strips around the hot dogs, as though wrapping bandages. You can leave a few bare spots where the "body" shows through. Place on a baking sheet and pop into a 350 degree oven for 7-10 minutes, or when the dough turns light golden brown. Remove from oven and allow to cool for a few minutes. Use the mustard to make dots for eyes. Serve with ketchup "blood" for dipping.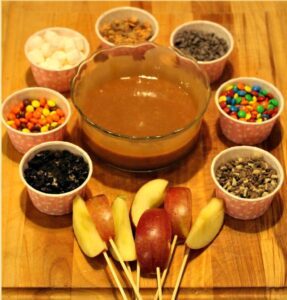 DESSERT is really fun! Kids will go wild for a CARAMEL APPLE BAR. You'll need a bag of caramels for dipping. Follow the instructions on the bag for melting the candy, either on the stove or in the microwave. Fill small bowls (we used sturdy disposable souffle cups from the craft store) with a variety of toppings: mini M&Ms, crushed cookies, chopped nuts, sprinkles, crushed pretzels – the choices are only limited by your imagination. While the caramels are melting, slice apples into wedges and place a wooden skewer in one end. Pat the apple slices dry with a paper towel (this helps the caramel stick to the fruit.) When the caramel is melted, it's time to dip the apples then get crazy with the toppings!
All of these dishes are quick to prepare, and none will break the bank. That means you'll have more time to enjoy the evening. Happy haunting!