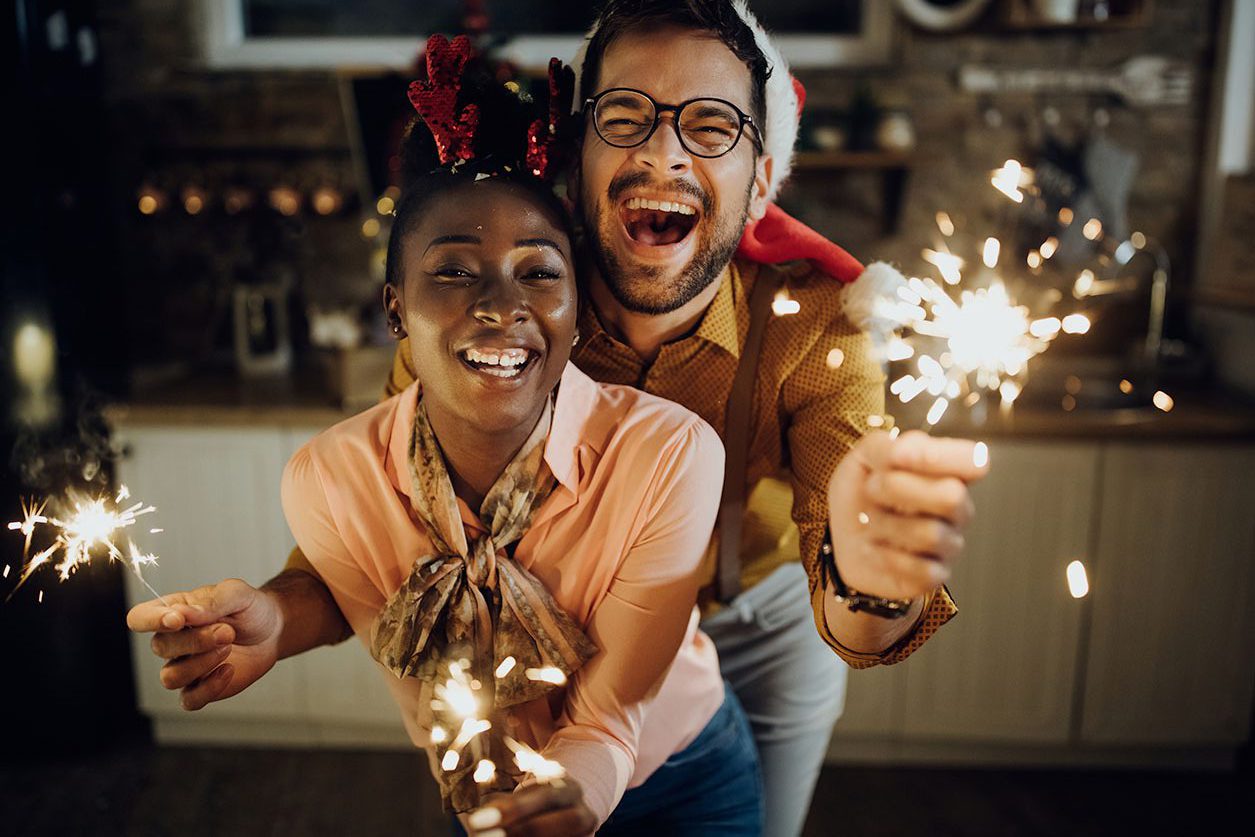 Are you ready to celebrate but still need to keep a budget? No problem, we have the ideal set of inexpensive New Year's Eve ideas to mark the occasion. We understand the specialness of the clock striking midnight. With our low-cost suggestions, you'll enjoy the moment in full.
Inexpensive New Year's Eve ideas that save money
Creativity goes a long way. We've broken down our tips into two categories. While there are many ways to celebrate, read the complete list to decide what works best for you.
Cheap ways to add fun to your NYE party
We all know the party is the main focus of the night. An estimated 11% of Americans spend over $200 on New Year's Eve. When you have other bills to pay, that amount can wreak havoc on your wallet. Here's how to keep things festive while reducing party costs. 
1. Turn a wall into a display
Ditch the costly photo booth rental for your New Year's party. Instead, consider turning a wall into a backdrop display. Remember to pick an area without a lot of traffic and place lights if needed. When it comes to being inexpensive, New Year's Eve ideas like this go a long way.
2. Make fancy foods bite-sized
Rather than serving full trays, offer guests miniature versions of popular appetizers. Traditionally, our end-of-year galas don't include dinner. People are more in-tune with the party. Take advantage and keep your food budget to a minimum. 
3. Ask guests to bring their favorite drinks
Spirited beverages can add up. Help offset the expense by asking guests to BYOB. It will create a more diverse selection, all while keeping everyone happy. 
4. Do you really want balloons?
The global party balloon market was valued at $647.3 million in 2020 is expected to reach $865.5 million by the end of 2026. With that said, balloons and helium are pricey. Since balloons are an expenditure that does not last long, why not purchase other decorations in their place? 
Turn your New Year's into a themed event
Adding a theme will transform your NYE into something unique. It pulls out the dynamic enthusiasm of the night and turns it into something memorable. 
5. Plan a picnic in the park
Want to do something outdoors? Head to your local park to countdown. Choose a place that has good lighting and walking trails for nightfall. Some parks even leave their Christmas lights illuminated until after New Year's. Be sure to bring your phone or a radio. You wouldn't want to miss the ball drop.
6. Do a movie marathon
Folks that like to be on the quieter side should consider watching their favorite movies. There's no fuss with this style of celebrating. Also, it creates a calmer environment. If you already have a streaming service, perfect. May we suggest watching the highest-grossing Christmas movie of all time?
7. Get cozy with a backyard bonfire
Cooler weather creates a chance to celebrate near a warm, cozy fire. Don't forget to take a few snacks and your best campfire stories with you. 
Do GOOD for your budget, even after NYE
We all love inexpensive New Year's Eve ideas. Additionally, we all love saving money. What if there was a solution to high monthly payments and overspending? 
Achieva offers personal loans with fixed rates and flexible terms. You can use them to consolidate debt or pay for emergency expenses. With lower interest than your average store credit card, a personal loan may be the right choice for you. Apply online, or call 727.431.7690 for more details.